Your free e-book download is here!
Thank you for requesting your copy of the
"Eleven Simple yet Powerful Principles for a Happy, Relaxed and Creative Life " e-book.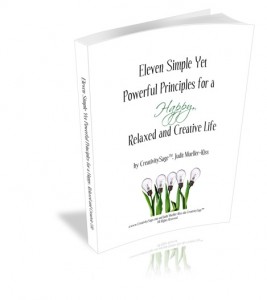 Please download your copy now with my compliments.

To download your e-book, right click the link below and save the PDF file to your computer.
Right click here to download your e-book.

The report is available in a PDF format. Acrobat Reader is required to view the document. If you don't have Acrobat Reader installed on your computer you can download a free copy by clicking here
And a special surprise for you!
Would you like to have some extra support during putting the 11 principles into action?
I have excellent news for you. You are welcome to have one IdeaJam(TM) session with me totally f*r*e*e. I offer these sessions only to my current clients for $97. But as a special surprise, you have the opportunity to enjoy this 45-minute strategy session at no cost to you with my compliments. We will work on how to put the principles into practice in your special situation.
All you need to do to claim this gift session is to book an appointment at this link: https://my.timedriver.com/CKMRC

As soon as you booked your session I will send you a short questionnaire to help you get clarity on your current challenges and goals. What areas of your life would you like to transform using the 11 powerful principles? And why is NOW the right time to get that transformation going?
These complimentary IdeaJam(TM) sessions are available on a first come, first served basis until June 21.
Please book your session NOW before you forget about it.
What is an IdeaJam(TM) session?
Our goal is to brainstorm ideas for a challenge you bring to the session. The challenge we work on can be a business one (e.g. new product or program creation for your business), a creative project (e.g. how to go about writing your first book) or a more personal one (e.g. how to live a happy, relaxed life). For example I had some great sessions with my clients on planning a de-cluttering project, on dealing with personal finances and changing deep-seated but not beneficial beliefs just last week.
But we don't stop at brainstorming, I will guide you to select your best option(s) from the ideas created and also help you to put together an action plan. So that the 11 powerful principles have a chance to be included in your life permanently.
Thank you so much for taking time out of your day to do an IdeaJam session with me yesterday!
Starting with the pre-session questionnaire I filled out, really helped to give me focus and a guideline to work with as we spoke. Your ideas and suggestions on ways to work with the various issues and goals I have were extremely helpful and I am excited to start implementing them! I will keep you updated with my progress and successes!
Thank you, thank you, thank you. My deepest desire, for years, has been to write a book about child rearing, but I didn't know where to start and I was afraid to begin the process. The idea jam session was fantastic. Your tips on organizing my thoughts, ideas, and how to execute them on paper, helped me "see" a clearer picture. And after our session it doesn't feel so intimidating. I also appreciated that we talked about writers block and "pit falls" I may come up against, and ways to overcome them. Your information on today's publishing processes is invaluable. Armed with the information I received in our idea jam session will definitely help spur me on to achieving my fondest dream.
Enjoy your ebook, and let me know how the principles I described in the book are changing your life. And don't forget to ask for your complimentary IdeaJam™ session NOW before you forget about it!